President Bush's visit to Tanzania in February received widespread international coverage. For example, the SOUTH CHINA MORNING POST (February 18) reported that President Bush had signed a 5 year $698 million new aid package for Tanzania. In Arusha President Kikwete spoke about Barack Obama and the excitement of the American presidential election. "The US is going to get a new President. Whoever it is, for us, the most important thing is, let him be as good a friend of Africa as President Bush has been."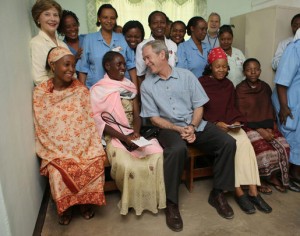 US president Bush at a health centre near Arusha
At a joint press conference in Dar es Salaam President Bush said "America doesn't work with thieves" and added: "The decision to back Tanzania's efforts to fight poverty has been prompted by President Kikwete's stand against corruption." President Bush described Mr Kikwete as a "smart and role model leader in Africa."
Security was extremely tight during the visit. US security officials camped on the roof a one of the buildings in the State House complex and sniffer dogs were roaming the State House grounds. President Bush arrived in a massive bullet proof limousine which was equipped to fend off heat-seeking bombs from more than 100 metres. Some of the security guards took time off in Arusha in the evening to visit the Greek Club. On the way back to their hotel they were mugged!
President Bush summed up the visit by saying: "It was very moving for us racing through the streets of Dar es Salaam to see thousands of people there greeting us. I really do want to extend my thanks." President Kikwete gave Mr Bush a stuffed leopard and lion and Mr Bush gave Mr Kikwete a pair of basketball star Shaquille O'Neil's athletic shoes. In April the US said it would increase the President's Emergency Plan for Aids Relief (PEPFAR) assistance to Tanzania by an additional $303m, bringing the total amount contributed to over $817m. Again in April they gave some $2.3 million to strengthen smallholder horticultural export market linkages for high value vegetables – Thank you Christine Lawrence and Elsbeth Court for sending parts of the above and Ron Blanche for sending another part from Singapore – Editor.
The London GUARDIAN WEEKLY REVIEW (February 29) wrote: 'Never mind the bubonic plague, or T.B. or Aids, no disease in the history of the human species has caused more sickness or death and no disease has proved harder to defeat than malaria. It destroyed armies during the first and second world wars and counts among its illustrious victims Alexander the Great, Dante, the Holy Roman Emperor Charles V, Oliver Cromwell and Lord Byron. Meanwhile in Tanzania Shadrack Nuru, a nine months old baby in Bagamoyo, is one of 340 babies who are part of a newly energised global campaign to defeat this tenacious killer. They are participating in clinical trials which are under way to test the efficacy of the most promising malaria vaccine yet devised. Half of the babies have been injected with the prototype vaccine known as RTS.S and half with a control vaccine.
Shadrack, because he is at the centre of a major international research project, has a much higher chance of surviving than the average baby in the country where local doctors estimate that more than 100,000 chil- dren died from malaria in 2007. The cash for the project has come from the Bill and Melinda Gates Foundation. Salim Abdullah, who heads the Bagamoyo Research Centre, was quoted as saying: "I believe we are the first generation in human history with a serious chance of beating malaria. But I would not have dreamt of saying such a thing 10 years ago when we were alone, neglected and unfunded – Thank you Sister Lucia CSP for sending this – Editor.
BIRDS, the publication of the Royal Society for the Protection of Birds, indicated in its May/July issue the concern being expressed by people from Lake Natron regarding a proposed new soda ash plant. This is said to threaten the only breeding site of the African Rift Valley's millions of lesser flamingos – among the world's most sensational wildlife experiences. The Tanzanian Association of Tour Operators was quoted as saying: 'Over and above tour operators' losses, the country will lose in terms of employment, taxes and the economic trickle-down effect.' The scheme is a joint venture between the government and Tata Chemicals of India. A spokesman for Tata was quoted as saying "It could well be that this project is impossible to carry out without significant risk to the survival of the lesser flamingo, but that point, in our opinion, has not yet been reached." Representations about the issue have been made to the parliamentary Committee on the Environment in Dar. Thank you Robert Wise for this – Editor.
The NEW SCIENTIST (19th April) wrote: 'Despite being one of the world's poorest countries, Tanzania has become a role model in how to reach global targets for reducing death rates of children and mothers – putting most of its poor African neighbours to shame. So says the World Health Organisation which reported that, of the 68 nations that account for 97 per cent of the world's childhood and maternal deaths, only 16 are on track to meet millennium development goals in children under five by two thirds and maternal deaths by three-quarters between 1990 and 2015. Between 1999 and 2004 Tanzania increased the annual amount spent on health care per citizen from $4.70 to $11.70. No other African government matched this. As a result child mortality fell by 11 per cent between 2000 and 2005 and Tanzania should be able to reach its target' – Thank you Keith Lye for this and many other contributions – Editor.
An article in DEVELOPMENTS Issue 41 under the title 'Net Benefit' reported on an unprecedented joint venture to protect against malaria between the Japanese giant Sumitomo Chemical and A-Z Textiles based in Arusha. Sumitomo are the creators of the Olyset net which is guaranteed to last at least five years; it never needs re-treatment; its polythene technology makes it virtually tear-proof so it can be washed up to 20 times and still remain effective; its control – release technology enables the non-toxic insecticide to be contained within the fibre, not coated on the outside; it has a quadruple insecticide effect on mosquitoes – bite inhibition, repellency, knockdown and kill. Started in 2004, production has now reached 10 billion nets a year. Some 3,200 people, mostly women, have gained employment.
Kate Elsheby, writing in the April issue of NEW AFRICAN described a visit to 'the mesmerising, yet little-known Katavi National Park in south-west Tanzania. There are more hippos than anywhere else in Africa. The park receives only 1,200 visitors each year in contrast to the Ngorongoro crater which recorded a record 375 cars on one day alone in August 2007. The animals at Katavi are completely wild and not like other parks where they are used to vehicles and sit watching like moody, camera-weary models. During the dry season Katavi's crocodiles display behaviour unique to this area which resulted in the National Geographic Society coming out to film them in 2007. The crocodiles slither into caves along the riverbanks to hibernate: lying still, their heart beats slow to two beats per minute, and they remain like this for up to six weeks….'
The ANTIQUE TRADE GAZETTE (November '07) reported that the first European credited with successfully climbing Mount Kilimanjaro was Hans Horst Meyer. He eventually reached the summit on his third attempt; On his first he was defeated by deep snow and ice; on the second he was taken prisoner during the Abushiri revolt. In 1891 he published a book on his climbing and this book was recently put up for auction at Christie's. Gallerie Minerva of Zurich bid £4,200 for it – Thank you John Sankey for sending this – Editor.
The EAST AFRICAN in its March 31 issue devoted two pages to the person it described as 'Tanzania's one-man backbench.' It wrote: 'Zitto Kabwe, the MP for Kigoma, is at the face of a new breed of young politicians who have lit up the public imagination by incessantly questioning authority and crusading against corruption.' It went on: 'Tanzanian society itself is in a state of ferment. For the first time, public pressure is mounting on leaders to account for their actions. And nowhere has this pressure for change been more evident than in Parliament where Kabwe and company have emerged as voices for reform and probity. He represents the new breed of radical nyerereist MP's who have risen up to revive Nyerereism as an ideology of simplicity and the rejection of the empty worship of wealth…..the man has forced the government to start looking afresh at lopsided mining contracts that Tanzania has signed with multinational mining companies over the years. What CCM bigwigs did not realise was that Kabwe is riding the crest of a wave of popular resentment of mining companies because the people were perceived as not getting a fair share of the revenue from the expanding gold exports…. Kabwe is a trained Trade Economist…. At university he was suspended twice following a student strike…he joined the CHADEMA party in 1993 AND is now Deputy Secretary General. He say he will not contest the next election because he wants to undertake further studies but he is under strong party pressure to change his mind.
The NEW INTERNATIONALIST (October '07) reported that a number of falconers in the United Arab Emirates have been in negotiations to lease land from the Hadzabe tribe, who dwell near Lake Eyasi and are one of the oldest indigenous groups on the planet. The Hadzabe apparently do not object provided they can continue to co-exist on the land. However, the article says, the Tanzanian government plans to take them off the land and relocate them in 'shanty towns' "Their right to their land and their way of life is under threat and protest is gathering worldwide" Sheikh Hamdan Bin Zayed Al Nahyan, Head of the UAE Falconers Club, is being petitioned to intervene in the case by falconers and also to help to see that the Hadzabe are treated with respect – Thank you Sister Lucia CSP for sending this – Editor.