by Ben Taylor
Ruge Matahaba
Media and entertainment entrepreneur, Ruge Mutahaba, died in a South African hospital in February at the age of 49, following kidney failure. Officially, Ruge was Director of Strategy and Programmes Development at Clouds Media Group, but he was much more than this. He had played a leading role in transforming the popular music and entertainment industry in Tanzania over the past two decades.
Ruge co-founded Clouds Media with his long-time collaborator and business partner, Joseph Kusaga. The new radio station arrived into a music scene dominated by decades-old Tanzanian classics and stars and their music imported from the DRC or USA, and up-ended it. Ruge promoted local acts, enabling young Tanzanians to develop a musical style and culture of their own. Bongo Flava may draw heavily on American hip-hop, but it combines this with elements from taarab and dansi music as well as the creativity and imagination of street Swahili to create something uniquely and recognisably Tanzanian.
Ruge didn't invent the style, but he enabled it to flourish. And with Ruge at the helm, Tanzanian youth culture became cool again. As social and political commentator, Elsie Eyakuze, notes, "we youth went from being nobodies to a real demographic with a voice and power. And all this because one young man decided to dedicate his entire life-force to what he loved and to do it in the country he loved. That's why nowadays anything youth is possible."
"We believed there was room for us to make some money in the most unconventional ways, and to promote local content because some young men had started making music," Ruge said. Besides Clouds Media, Ruge played influential roles in establishing the Fiesta concert series, Primetime Promotions, the Smooth Vibes record label, the Sauti za Busara festival, the Fursa campaign, and Tanzania House of Talent.
Ruge Mutahaba was born in Berkeley, California in 1970. He studied primary school in Arusha and Dar es Salaam, before progressing to Forodhani Secondary for O-level and Pugu High School for A–level studies. He later joined San Jose University of California for degrees in marketing and finance.
Perhaps the best evidence of Ruge's impact on popular culture in Tanzania is to witness the response to his death. Thousands lined the streets in mourning, first in Dar es Salaam and later in Bukoba when his body returned from South Africa.
"It is with great sadness that I received the news on the passing of my son Ruge Mutahaba," said President John Magufuli on Twitter. "I will forever remember him for his huge contribution in the media and entertainment industry as well as his efforts in mentoring the youth. My sincere condolences to his family and friends."
Former Tanzanian president Jakaya Kikwete said he was at a loss for words. "My heart bleeds and is filled with sadness after receiving news on the death of Ruge Mutahaba. The nation has lost a young visionary and patriot. He helped me during and even after my presidency. May he rest in peace," Kikwete posted on Twitter.
"I do not like small dreams, I like big dreams," Mutahaba said while delivering a lecture at University of Dodoma. "You need to be aggressive and please do not stop until you are a star."
Hatim Amir Karimjee
It is with profound sadness that the Karimjee Jivanjee family announce the passing of Hatim Amir Karimjee on 12 January, 2019 at the age of 73, in London, England, surrounded by family and close friends. He was born in Zanzibar, Tanzania on 27 July, 1945 to the late Amir Yusufali Karimjee O.B.E and the late Kulsum Amir Karimjee.
Hatim leaves behind a deep-rooted legacy of professional and philanthropic achievements honouring his family, his community, and his country. Hatim will be deeply missed and forever cherished by his wife, Razia, his son, Yusuf, his daughter-in-law Aran, his adored grandchildren Kaleem and Danyal, and his two siblings, Zamy and Mahmood Karimjee.
He will be greatly remembered for his generosity, his sharp wit and booming spirit; his appreciation of art, and his fervent love for food, wine and travel. Hatim's appetite for life will live on through those who knew and loved him.
Hafiz Khandwala
Peter Le Mare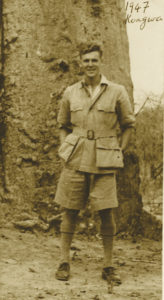 Soil scientist, woodworker, yoghurt maker, occasional needleworker and environmentalist, Peter Le Mare, has died aged 95. Peter worked on the Tanganyika groundnut scheme at Kongwa in the 1940s, initially living and working in tents until houses were built.
When the scheme, intended to supply vegetable oil for the UK's post-war diet, folded in 1952, Peter moved to Uganda, before returning to Tanzania in 1963. Peter worked on fertiliser use for tropical soils at Ukiriguru, where, in 1965, he had the honour of escorting President Julius Nyerere, for whom he had great respect, around the research plots.
Peter went to Friends' school, Saffron Walden, in Essex, and Leighton Park school, Reading. A conscientious objector during the second world war, he was instructed to "work full-time on the land". He went first to Rothamsted Experimental Station, Harpenden, Hertfordshire, where he assisted with field experiments to improve soil fertility and the wartime production of food.
In 1945 he began working at the ICI Research Station near Bracknell, Berkshire, where he met Joy Smallwood, a horticulturalist. They married in 1946, before moving to east Africa the following year. While there, Peter sailed on Lake Victoria in a dinghy he had built himself and climbed Kilimanjaro.
The family returned to the UK in 1969 where, back at Rothamsted, Peter wrote his PhD based on his overseas work. In 1973 he became a research fellow at Reading University specialising in tropical food crops.
Margaret Le Mare