by Martin Walsh
SEA LEVEL: A PORTRAIT OF ZANZIBAR. Sarah Markes. Mkuki na Nyota, Dar es Salaam, 2020. 144 pp. (paperback). ISBN 978-9987-084-19-7. £27.00.
I was very happy to be asked to review
Sea Level: A Portrait of Zanzibar
, as I had already seen wonderful glimpses of Sarah Markes's work on Instagram, including the cover with its illustration of the iconic Old Dispensary on the seafront in Stone Town, Zanzibar. I lived and worked in Stone Town in the 1990s and saw the Old Dispensary being painstakingly brought back to life and splendour during its restoration by the Aga Khan Trust for Culture after years of neglect. The Old Dispensary is an example of how a building can be saved but it also illustrates the richness and multi-cultural nature of Zanzibari architecture. It seems a very fitting choice for the cover of a book which has the message of conservation at its very heart.
Sea Level follows on from Street Level, an illustrated book on the cultural and architectural heritage of Dar es Salaam, where Sarah Markes recorded the vanishing city centre with snapshots of daily life there. Both an artist and designer, the author has worked widely in East and Southern Africa on awareness campaigns, educational and environmental issues. She documents the cultural and natural heritage of places through her art and in doing so, hopes not only to raise awareness of their value but also to promote the need for their conservation. She says:
"My main aim in creating this book was to celebrate and record glimpses of this unique and beautiful place, and thus help inspire interest in its preservation."
The illustrations in Sea Level are structured around the eight wards of Stone Town. The featured buildings are numbered so that a visitor can explore the streets visiting the various points of interest, which are linked to a GPS position. I immediately wanted to set off on a walk following the routes through the different areas. From the iconic waterfront view of old palaces and mansions at Mizingani, the Art Deco cinemas to the bustling markets and caravanserai – all the buildings have a story to tell. There are beautiful detailed line drawings but the author also uses shadow layering of photographs offering hints and echoes. The streets are alive with people too, going about their business in the town, shopping, a kofia seller scrolling on his phone, the hubbub of the dhow harbour, men playing bao. There is movement and vibrancy here – nothing is static. Small photographs are also used to zoom in on particular details, cleverly highlighting a point or focusing on a particular theme – the latticework on a balcony or detail on a carved door.
We hear about the history of Stone Town from its original settlement of mud and wattle houses to the stone buildings that followed Seyyid Said's establishment of his capital there. The five main architectural traditions are highlighted with the layers of history and settlement of different people. There are cultural details too with the kangas and textiles, the feral cats, the spices and street seats. The details are incredibly rich and layered and I loved the illustrations of the various street light covers from saucepans to bucket lids and hub-caps. There is also a section on the natural heritage of the island, the importance of the forests and the reefs and the threats they face.
This all gives us a feeling of the mood, the vibrancy and the colour of life in Zanzibar. The smells and sounds of the place leap off each page. We are aware of the history, the monsoon winds, the people and trade and different religions that all combined to make the island so unique. Sea Level transports you there with the smell of the cloves and the taste of the freshly squeezed sugarcane juice. It also gives hope for the future with a list of organisations and NGOs who are working to help communities through education, heritage conservation and sustainable development.
In her preface, Sarah Markes explains how she was inspired by the work of the late John da Silva, a historian and watercolour artist who was also a passionate advocate of the need to protect and preserve Stone Town. I knew John well and feel sure that he would be happy to see how well Sarah is continuing his work. Sea Level captures the vibrancy, cultural diversity and uniqueness of Zanzibar. Sarah Markes writes of her hope of fostering interest in the preservation of Stone Town and initiating a gathering and sharing of stories which will be an important record of life there. Every rainy season more and more of Zanzibar's unique old buildings are lost after years without maintenance or concern for their preservation. The partial collapse of the House of Wonders on 25 December 2020 shows that even the most iconic of buildings is under threat. Sea Level is an important reminder of what can be lost and what needs to be done.
Bethan Rees Walton
Bethan Rees Walton lived in Zanzibar from 1990-1996 and is the author of Images of Zanzibar (1996) with Javed Jafferji. After returning to the UK to study an MA in Social Anthropology at SOAS, University of London, she now lives in Pembrokeshire and teaches yoga by the sea. She is currently writing a novel which is set in Zanzibar.
THE HISTORY OF KIZIBA AND ITS KINGS: A TRANSLATION OF AMAKURU GA KIZIBA NA ABAKAMA BAMU. F.X. Lwamgira (trans­lated by G.B. Kamanzi and edited by P.R. Schmidt). Mkuki na Nyota, Dar es Salaam, 2020. xxxviii + 414 pp. (paperback). ISBN 978-9987-083-68-8. £35.00.
The History of Kiziba and its Kings is a very welcome addition to the literature on the Haya people, their culture, and their history. A translation of Amakuru ga Kiziba na Abakama Bamu, a book by the Haya scholar and chief Franciscus X. Lwamgira published in 1949, this volume gives readers a fascinating account of the history of Kiziba, one of several kingdoms established by the Haya people in what is now the Kagera Region of Tanzania. A collection of painstakingly researched and assembled oral records, it tells the history of Kiziba primarily through stories of the reigns of its kings, from the foundation of the kingdom until the period shortly after the First World War.
The importance of a history told through Haya voices cannot be overstated. Those interested in the Haya people and their culture have often relied on texts produced by European or North American observers. Some of these, such as Bengt Sundkler's Bara Bukoba (1980), are invaluable sources produced by individuals with an intimate knowledge of the Haya people, but they nevertheless represent a body of literature written by outsiders looking in. This book, by contrast, provides a platform for indigenous voices, and allows for a better sense of Haya understandings of their own history. Whilst these sorts of local histories are more common in other parts of East Africa, particularly in Uganda, this book represents a novel and exciting development in the English-language historiography of the Haya.
The History of Kiziba and its Kings provides readers with a picture of a complex society in which a dynamic, competitive political arena was tempered by a culture in which ritual and tradition played central roles. Whilst it is unavoidably a history concerned primarily with Haya elites, it nevertheless allows for an understanding of society and the region more generally. The importance of the kings' mothers, of ritualistic drums, and of the Haya clan system, as well as the names of places and things, are just some of the many things these stories shed light on. Importantly, they also provide an account of the challenges faced by Haya society as a result of the introduction of Christianity and German colonial rule.
There is much to commend in Galasius B. Kamanzi's translation of Lwamgira's work. Firstly, and most obviously, he has done an impressive job of translating into English a sizeable and complex piece of scholarship from a now largely forgotten form of the Haya language. Haya dialects have changed significantly since Lwamgira first wrote his book, so those of us with an interest in Haya history are very lucky to have individuals like Kamanzi to make accessible sources of knowledge which would otherwise be closed to us.
However, perhaps more significantly, Kamanzi has also been careful not to lose the centrality of orality in Lwamgira's history. The subtleties of oral narrative are well preserved in the English translation, with the rhythms, refrains and constructions of the epic poetry which has historically played an important role in Haya culture coming across very effectively. That these are narratives to be remembered, recited and performed is evident, and the effect is both captivating and engaging. To capture effectively oral history in a written medium is an achievement in itself; to manage it even in translation is particularly impressive. Indeed, readers of this book cannot help but reflect on the different ways of knowing and remembering that oral cultures can teach those of us who are more familiar with written forms of knowledge.
Finally, Peter R. Schmidt, the editor of this translation, deserves credit for his very informative introduction to this edition. The history of the Haya people and their kingdoms is complex and often difficult to trace with many of the sources available. A few spelling and grammatical errors aside, Schmidt does an admirable job of contextualising both this particular work and its author, and of introducing those who may be unfamiliar with the history of this region to the oral traditions which characterise it. Overall, The History of Kiziba and its Kings is a fascinating, important book which should be added to the reading list of anybody with an interest in Haya history and culture.
Nico Brice-Bennett
Nico Brice-Bennett is a PhD candidate at the University of Edinburgh, researching the history of religion and socio-political thought in Tanzania, particularly among the Chagga and Haya peoples. Nico grew up in the Kilimanjaro Region of Tanzania before moving to the UK in 2012 to study for a BA in Ancient, Medieval and Modern History at the University of Durham. Following this, he undertook an MPhil in African Studies at the University of Cambridge, before moving to Edinburgh in 2017. His research places a particular focus on oral history, as well as on the history of regionally produced Swahili-language newspapers.
THE AMPHIBIANS OF THE TANZANIAN FORESTS. Michele Menegon, John Lyakurwa and Simon Loader. A freely downloadable visual guide, Version 1.0, December 2020. 202 pp. Available online at https://www.researchgate.net/publication/350820277_Amphibians_of_the_Tanzanian_forests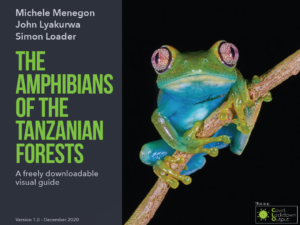 This sumptuously illustrated photographic guide to the frogs and caecilians of Tanzania's forests is a very welcome addition to the literature on the country's amphibians and their wonderful variety. The authors' introduction underlines just how incomplete our knowledge of this diversity is: they estimate that around half of Tanzania's amphibians remain unknown. As for those associated with its forests,
"The book includes a total of 152 species, for 117 of them, description and name have been published in a scientific publication. Of these species 111 are Tanzanian endemics. For about 20 of these formally described species, ongoing studies suggests that more than one cryptic taxa are included under that one name. In addition, we include in this book a further 35 species which have no formal name or published scientific account but which published studies or 'grey literature' have demonstrated to be distinct from already known taxa."
At the same time, many of these species, both described and undescribed, are severely threatened by deforestation and other impacts of human activity, not least of which is climate change. The authors rightly emphasise that amphibians should be treasured and protected for more than their immediate usefulness to people, however their social and economic value might be calculated. Amphibians are integral to the tangled web of life, every thread and connection of which demands our care and attention, including best efforts at conservation.
This book represents an important contribution to that undertaking, and I look forward to updated versions of the current pdf. Otherwise, it's worth downloading for its glorious photographs alone. It's pleasing to see that the introductory sections have also been translated into Swahili, an increasing trend in guidebooks of this kind. It's a pity, though, that so many newly described amphibians are still being named after a privileged minority, just when calls for the decolonisation of nomenclature are beginning to be heard.
Martin Walsh
Martin Walsh is the Book Reviews Editor of Tanzanian Affairs and recently became a member of the Editorial Committee of the Journal of East African Natural History.
Also noticed:
HISTORIA YA KIZIBA NA WAFALME WAKE: Tafsiri ya Amakuru Ga Kiziba na Abakama Bamu. F.X. Lwamgira (translated by G.B. Kamanzi and edited by P.R. Schmidt). Mkuki na Nyota, Dar es Salaam, 2020. 476 pp. (paperback). ISBN 978-9987-083-69-5. £35.00.
A Swahili translation of F.X. Lwamgira's Amakuru ga Kiziba na Abakama Bamu (1949), the English translation of which (The History of Kiziba and its Kings) is reviewed by Nico Brice-Bennett above.
Both translations are available from the African Books Collective (ABC) at www.africanbookscollective.com, as is Sarah Markes' Sea Level: A Portrait of Zanzibar (reviewed here by Bethan Rees Walton) and the author's earlier Street Level: A Collection of Drawings and Creative Writing Inspired by the Cultural and Architectural Heritage of Dar es Salaam (2011).
Readers may also like to peruse ABC's current catalogue of books published in Swahili, which includes both fiction and non-fiction titles: see https://www.readafricanbooks.com/ and https://www.readafricanbooks.com/media/website_pages/catalogues/ABC_Swahili-2021_web.pdf. Recent offerings include Ali Hassan Mwinyi's autobiography, Mzee Rukhsa: Safari ya Maisha Yangu (2020), which we hope to review in a forth­coming issue.
Martin Walsh