President Kikwete's recent bold actions in tackling corruption in Tanzania and his appointment as head of the African Union (AU) have greatly enhanced his stature on the international scene. When former UN Secretary General Kofi Annan reached deadlock after tortuous negotiations with Kenyan leaders to try to establish a power sharing government, President Kikwete, was called to Nairobi and in a very short time (on February 28 to be precise) the two squabbling Kenyan parties reached agreement.
The East African front page
The 'East African' was unstinting in its praise for President Kikwete as indicated by the front page of the paper shown above. The two leaders had come under intense pressure from the US and Europe to compromise over President Kibaki's disputed re-election in the 27 December 2007 vote, which had forced 300,000 people to flee their homes amid ethnic violence and had severely damaged Kenya's reputation as a stable regional economic hub. Compromise was necessary for the survival of this country, Annan said after the signing.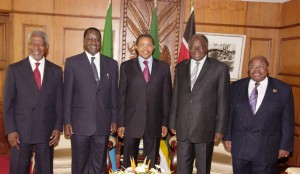 Kofi Annan, Raila Odinga, Jakaya Kikwete, Mwai Kibaki and Benjamin Mkapa at the signing ceremony in Kenya
Then came a very high profile visit by President Bush who spent four days out of his six days in Africa in Tanzania and enjoyed himself very much – see here.
In April President Kikwete paid a state visit to China, a country whose influence all over Africa is spreading rapidly. The President also visited India in April to attend an Indian-African conference aimed at establishing closer trade and other relations. While he was there, there was another crisis in Zimbabwe (although President Mbeki of South Africa said that he could see no crisis) following elections in which, to the surprise of many, President Mugabe's ZANU PF party apparently lost its majority in the lower house of parliament. The Zimbabwe problem is likely to remain on President Kikwete's desk for the foreseeable future especially after the President of Zambia, in his capacity as head of the SADC countries, convened yet another inconclusive meeting on the subject.
After India, Kikwete's next stop was to have been Copenhagen followed by London on April 1 where he was due to open a conference organised by Tanzanian High Commissioner Mrs Mwanaidi Majaar and others. However, the President, in his capacity as Head of the African Union, suddenly had to fly to New York to take part in a high level meeting at the UN on Africa's problems. Surprisingly, Zimbabwe was not on the original agenda, but UN Secretary General Ban Ki-moon expressed his concern about events there and British Prime Minister Gordon Brown, in an unusually strong speech, called on the UN to make its views heard.
Poster saying "The people of the Comoros thank you"
In Anjouan, a tiny island in the Indian Ocean which forms part of the Federation of the Comoros, the leader, who had originally come to power on the island through a coup d'etat, declared his desire to break away from the Federation of three islands and declare Anjouan island autonomous under his leadership. This was not well received by other African states and in response to an appeal from the President of the Federation President Kikwete dispatched some 900 Tanzanian troops supported by troops from Senegal and two other countries who rapidly removed the rebel leader and restored federal authority.
Meanwhile, at the London Investment Conference, at which Vicepresident Shein deputized for the president, under the heading 'Invest in Tanzania: a country of limitless opportunities' was a very up-beat event in which most participants must have been surprised by a) details of the major transformation in the economy of Tanzania since the last London Investment Conference as evidenced by the contrast in the basic statistics when 2006 was compared with the ten years earlier and b) the apparently limitless possibilities for the future.